" We attended a business convention and the facilities were ideal, as was the catering service, highly appropriate for the event. Also, the hotel is located next to the bus station, which makes it easy to get to the AVE train station."
José Ignacio A – TripAdvisor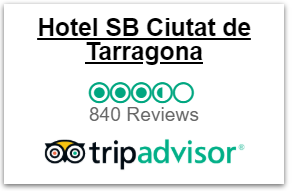 SB Ciutat Tarragona ****
Fall in love with Imperial Tarraco and never leave
Enjoy, visit, discover. A city with thousands of years of history. Relax like never before at Hotel SB Ciutat Tarragona. Let the Mediterranean breeze and the warmth of its people fill your body.
A hotel located in the heart of the city, close to all of the city's leisure, commerce and culture. Choose from our 168 rooms, a unique stay to share with your partner, family or friends.
Mediterranean Urban Concept
Feel more
4* that bring you much more than a good hotel. You have the keys to the cosiest and most creative atmospheres. You, your loved ones, your humanity and your feelings are our real guests.
The hotel